Chippenham, UK; 14 May 2019. Carbon ThreeSixty, the structural composites specialist, have underlined their commitment to understanding, developing and manufacturing world-class products for their clients by investing in specialist analytical instrumentation from PerkinElmer, the recognised leader in industrial analytical solutions.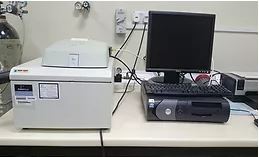 Shortly to be commissioned at Carbon ThreeSixty's base in the south west are a Differential Scanning Calorimeter (DSC) and Dynamic Mechanical Analyser (DMA).
DSC is one of the most versatile thermal analysis techniques available. It can be used with composites and composite precursors to study thermodynamic processes (glass transition, specific heat capacity) and kinetic events such as cure and enthalpic relaxation associated with physical aging or stress
Dynamic Mechanical Analysis is an extremely versatile and flexible analytical technique for measuring the physical properties, including storage modulus and glass transition temperature, of a range of materials. Although DMA can be used to investigate many physical properties of a material, its key strength is the evaluation of the glass transition temperature (Tg) of a polymer. The DMA's sensitivity for Tg makes it the preferred tool for scientists around the world.
Will Battrick, Carbon ThreeSixty's Technical Director commented "We're delighted to express our long-term commitment to quality assured, high-value manufacturing though further investment in our analytical capability. Having previously outsourced these measurements, we can now routinely undertake more in-depth investigations, enhance the level of QA across our products and proactively the address inherent process variability in advanced composites."
Company contacts:
Carbon ThreeSixty
Ed Allnutt (Managing Director)
+44 1225 810005
info@carbon-three-sixty.local
Notes to Editors:
About Carbon ThreeSixty (www.carbonthreesixty.com)
Carbon ThreeSixty are a specialist carbon composites company providing partners with R&D and prototype manufacture infrastructure that delivers bespoke specification wheels and runflats.
Carbon ThreeSixty has unparalleled expertise in resin transfer moulding and tooling design that harnesses the full potential of advanced composite materials resulting in world-class products that meet twenty-first century demands.