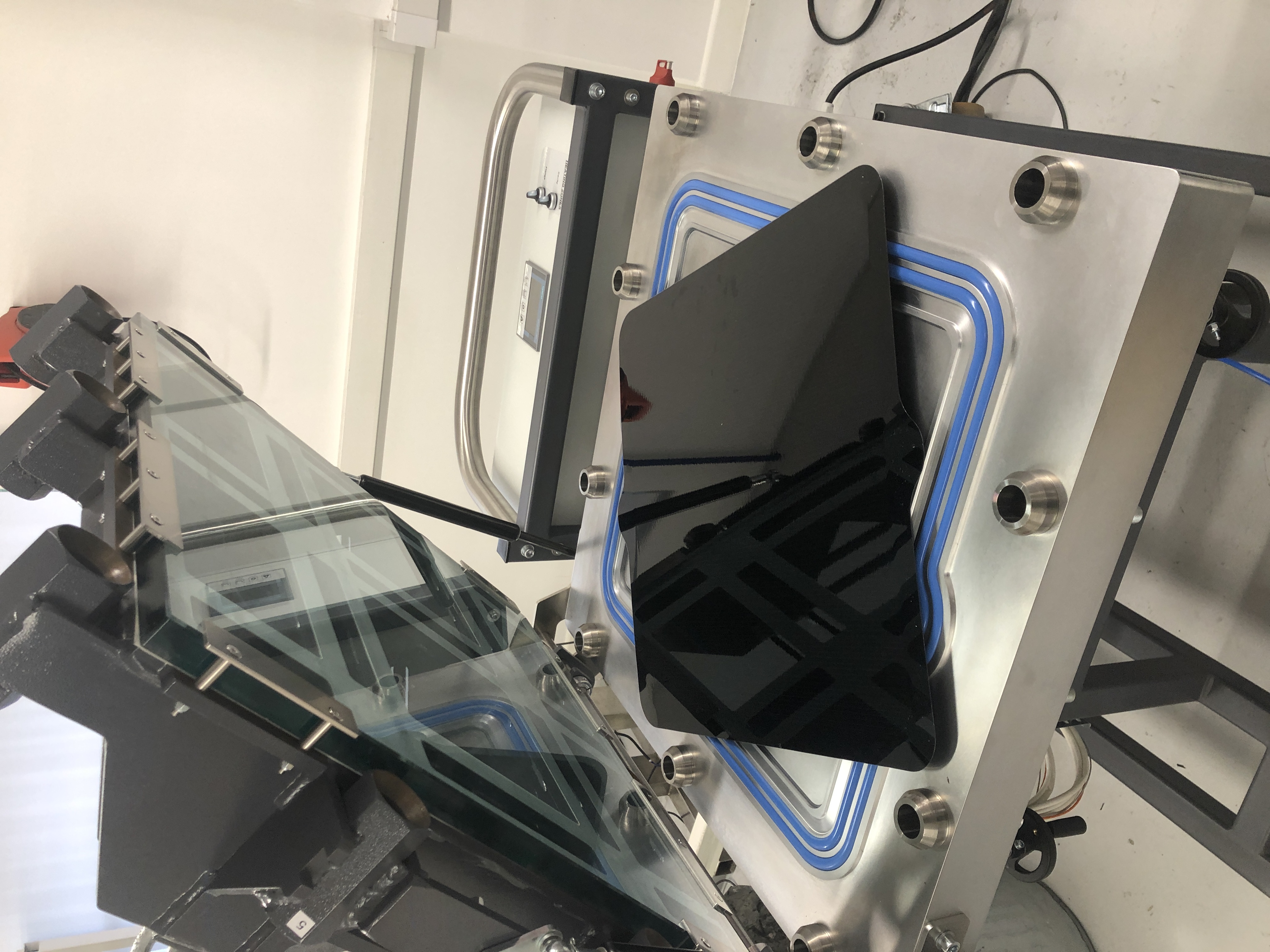 Chippenham, UK; 10 February 2021.  Carbon ThreeSixty, the lightweighting and advanced composite structures specialist, are pleased to announce the recent acquisition and commissioning of a highly capable 500mm x 500mm mechanically-clamped RTM panel moulding cell, sourced through trusted business partner Composite Integration Ltd.
With this investment, Carbon ThreeSixty are now able to undertake a wide range of internal and client-driven R&D activities, including composite panel manufacture for materials performance and manufacturability characterisation, preform permeability investigations, and laminate design development, alongside rapid prototyping of preforms manufactured using their pre-existing Tailored Fibre Placement cell. The toughened glass upper mould allows first-hand observation of resin infusion progress, and is reinforced with a steel supporting framework to allow RTM up to 4 bar positive pressure.
The lower mould is machined with a sophisticated screw-adjustable cavity thickness (maximum thickness 50mm), The upper mould consists of 25mm heat-toughened plate glass to allow full observation of the injection process.  The cavity is mechanically clamped and so can be used at positive pressures (maximum 4 bar), with both halves of the mould are supported by substantial steel frames to maintain accuracy at positive pressures.
Signalling their on-going commitment to providing world class expertise in composites, Carbon ThreeSixty have extended their offering to clients with the ability to swiftly processes new materials without the need for bespoke tooling investment.
Notes to Editors
1. Carbon ThreeSixty provide lightweighting solutions using advanced composite materials and manufacturing processes. They specialise in resin transfer moulding (RTM) and novel preforming techniques such as tailored fibre placement (TFP) to produce highly optimised and cost-effective structures.  The business has delivered several innovative light-weighting products into automotive and defence sectors including Heavy Duty Vehicle run-flat structures, next-gen tracked vehicle road wheels, and all-composite wheels for land defence vehicles. https://carbonthreesixty.com
2. Composite Integration Ltd provide market-leading and innovative solutions, specialising in RTM and Resin Infusion processes.  They offer a full range of machinery and ancillary equipment supported by comprehensive tooling and training services.  They export worldwide and are supported by an experienced distributor network.  https://composite-integration.co.uk