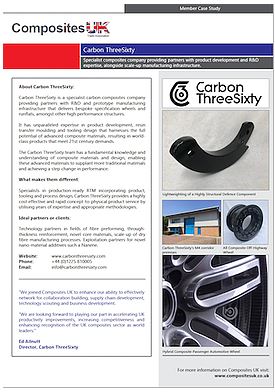 Chippenham, UK; 25 September 2018. Carbon ThreeSixty, the specialist carbon composites company, are delighted to have been chosen by Composites UK to feature in a New Member Profile, recently published on their well-respected industry hub website, https://compositesuk.co.uk/
Outlining Carbon ThreeSixty's expertise in the design and manufacture of novel carbon composites, and showcasing several recent product innovations and technology demonstrators, the showcase highlights the extent to which Carbon ThreeSixty can add value for existing and prospective clients, particular in lightweighting of existing products.
Carbon ThreeSixty's Managing Director, Ed Allnutt, said, "It was a pleasure for us to work with Claire Whysall, Communications Manager for Composites UK, in putting together this fantastic summary of our business and we're already seeing an uptick in enquiries as a result of the spotlight".
Carbon ThreeSixty will also be featured in the October issue of the Composites UK newsletter, due to be published on 1st October 2018.
Company contacts:
Carbon ThreeSixty
Ed Allnutt (Managing Director)
+44 1225 810005
info@carbon-three-sixty.local
Notes to Editors:
About Carbon ThreeSixty (www.carbonthreesixty.com)
Carbon ThreeSixty are a specialist carbon composites company providing partners with R&D and prototype manufacture infrastructure that delivers bespoke specification wheels and runflats.
Carbon ThreeSixty has unparalleled expertise in resin transfer moulding and tooling design that harnesses the full potential of advanced composite materials resulting in world-class products that meet twenty-first century demands.