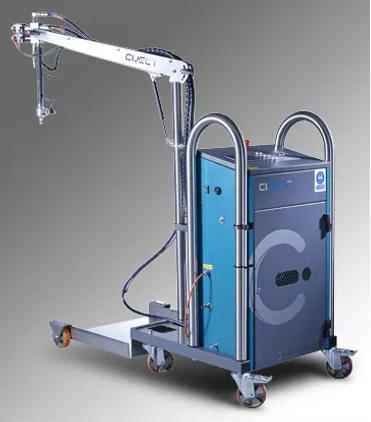 Chippenham, UK; 14 December 2017. Carbon ThreeSixty, the specialist carbon composites business, has increased its production capabilities with an investment in state of the art Resin Transfer Moulding (RTM) technology.
The Ciject™ RTM machine, provided by world experts Composite Integration Ltd, will support the company's growth in production-read structural composites, manufactured using closed mould resin transfer processes.
Technical Director and Co-Founder of Carbon ThreeSixty, Will Battrick, said of the investment, "the new Ciject™ machine allows us to more closely control and monitor our process parameters throughout product development and production. By doing so, we're able to dramatically improve both our quality and production efficiency."
The Ciject™ range of injection equipment is widely acknowledged as being the most sophisticated available, and combines award winning design with the highest quality engineering. The range includes a highly innovative range of equipment for delivering mixed resin into infusion processes.
Carbon ThreeSixty extend their thanks to the team at Composite Integration for their help and support in sourcing and commissioning the new machine.
Company contact:
Carbon ThreeSixty
Ed Allnutt (Managing Director)
ed.allnutt@carbon-three-sixty.local
+44 1225 810005
Notes to Editors:
About Carbon ThreeSixty (www.carbonthreesixty.com)
Carbon ThreeSixty is a specialist carbon composites company providing partners with R&D and prototype manufacture infrastructure that delivers bespoke specification wheels and runflats.
Carbon ThreeSixty has un-parallelled expertise in resin transfer moulding and tooling design that harnesses the full potential of advanced composite materials resulting in world-class products that meet 21st century demands.