Chippenham, UK; 15 March 2019. Carbon ThreeSixty Ltd attend JEC World 2019 in Paris, France. JEC World is a highlight of the composite industry's calendar. It gives sector professionals the opportunity to network with the global composites industry and is dedicated to the development of know-how, business connections and to support the growth and promotion of the composite materials industry. Find out more here.
Carbon ThreeSixty took the opportunity to meet with several global suppliers and to seek out new material and process technologies that could be utilised in its pursuit of producing world-leading, advanced composite structures.
On show were numerous developments in raw materials, material processing and a plethora of manufacturing techniques. Of particular interest to the team at Carbon ThreeSixty were the advances made in preform manufacturing, particularly how it was being applied to complicated structures such as automotive wheels. A special thanks to Composite Integration for agreeing to display one of our Carbon Hybrid Wheels on their stand throughout the show.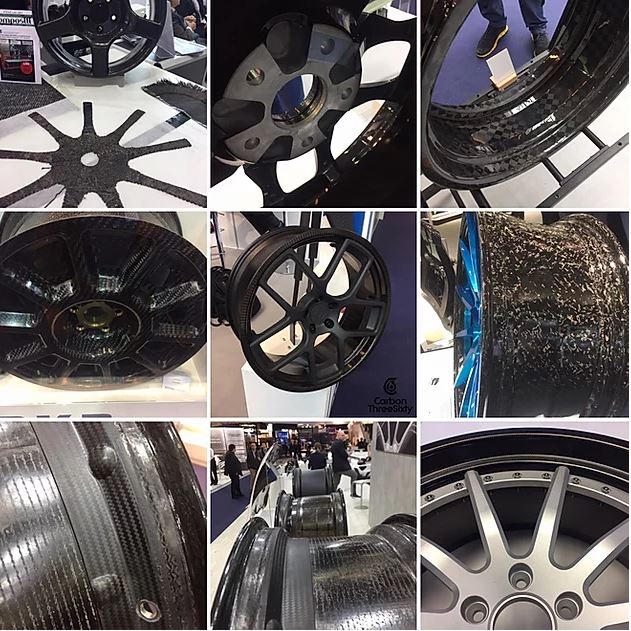 It was very encouraging to see several other companies displaying their latest developments in composite wheel manufacturing technologies. Whilst many of the wheels look similar, there were in fact a range of different manufacturing techniques and materials being used. Examples on display included processes from relatively simple pre-preg autoclaved construction to embroidered preforms used in fast cycle high pressure resin transfer moulding HP-RTM processes. There were also compression moulded thermoplastic variants on show.
It is unclear which process or material technology will prevail, but clearly the demand for lightweight powertrains has lead to an increased interest in the advantages of CFRP Wheels.
For anyone already working within the global composites sector or any of those interested in learning more about this high growth industry, Carbon ThreeSixty wholeheartedly recommend attending the show. If you have an interest in composite wheels, feel free to get in touch.
Company contacts:
Carbon ThreeSixty
Ed Allnutt (Managing Director)
info@carbon-three-sixty.local
+44 1225 810005
Notes to Editors:
About Carbon ThreeSixty (www.carbonthreesixty.com)
Carbon ThreeSixty are a specialist carbon composites company providing partners with R&D and prototype manufacture infrastructure that delivers bespoke specification composite products.
Carbon ThreeSixty has unparalleled expertise in resin transfer moulding and tooling design that harnesses the full potential of advanced composite materials resulting in world-class products that meet twenty-first century demands.