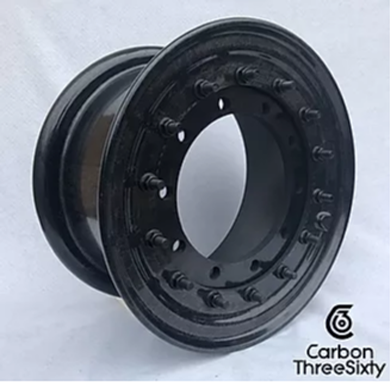 Paris, France; 11 June 2018. Carbon ThreeSixty, the specialist carbon composites company and Tyron Runflat launch an all-composite 20″ wheel for military and defence applications.
The carbon wheel is a direct replacement for a two part bolt together steel or alloy wheel used on many military vehicles. Current modelling has demonstrated that the wheel remains as robust as its predecessors but when fitted with the ATR-Carbon runflat can save up to ½ ton of unsprung weight on an 8×8 vehicle
Carbon ThreeSixty's Managing Director, Ed Allnutt, said, "Working with Tyron on the all-composite wheel project has furthered our understanding of the intricacies of designing and developing wheels for heavy duty applications. Weight is a big design issue for some vehicle platforms and there aren't many components left that can offer this magnitude of weight saving".
"A major request we hear from our armoured vehicle customers is can we help to reduce unsprung weight," said Richard Glazebrook, Chief Executive of Tyron Runflat"
"Using the latest technology and materials like carbon fibre Tyron is able to reduce the weight of bolt together wheels such as those used on large 8×8 AFVs by 47%. In addition, by replacing the steel structure inside our rubber runflat with a specially designed carbon fibre insert gives us the potential to reduce the total weight by 50%.
"This weight reduction enables the customer to add more protection or fuel or special to task equipment without impacting on the maximum all up weight of the vehicle," added Richard Glazebrook.
Company contacts:
Carbon ThreeSixty
Ed Allnutt (Managing Director)
+44 1225 810005
info@carbon-three-sixty.local
Tyron Runflat
Peter Simpson (Sales Director)
+44 1509 377 677
Notes to Editors:
About Carbon ThreeSixty (www.carbonthreesixty.com)
Carbon ThreeSixty is a specialist carbon composites company providing partners with R&D and prototype manufacture infrastructure that delivers bespoke specification wheels and runflats.
Carbon ThreeSixty has unparallelled expertise in resin transfer moulding and tooling design that harnesses the full potential of advanced composite materials resulting in world-class products that meet twenty-first century demands.
About Tyron (www.tyron.com)
Since 1977, Tyron has been developing a range of tyre safety features which are designed to keep vehicles moving safely at speed and for distances well in excess of standard requirements.
In the early 80's Tyron was contacted by the UK MoD to develop a range of steel bands for the Land Rover steel wheels. These were not only far stronger than the aluminium bands but also solved the problem of 'catalytic' reaction between the two different metals where the aluminium bands were prone to welding onto the steel wheels preventing removal of tyres when they needed to be changed.
In 2008 Tyron invented the world's first ever multi piece rubber run flat All Terrain Runflat (ATR) insert which can be fitted in the field to both military split rims and ordinary tubeless wheels, giving excellent off road capabilities with run flat capability of up to 100 km which far exceeds the Finabel standard.
In 2009 Tyron developed the unique R series wheel for armoured 4×4, 6×6 and cash carrying vehicles. This super strong alloy wheel, with a load rating of 1650kg, incorporates an ingenious beadlock design. When fitted with the ATR they allow travel on or off road for over 50km with all tyres deflated.