Chippenham, UK; 16 December 2022.  Carbon ThreeSixty (CTS),  leaders in advanced composite engineering, are pleased to announce the strengthening of the Senior Management Team with the appointment of Adam Black as Commercial Manager.
Having invested five years in innovative, cutting edge R&D, Carbon ThreeSixty Ltd now has a firm foothold in the Aerospace, Automotive, Energy and Defence markets. We work alongside companies ranging from multinational Bluechips to local start-ups. Carbon ThreeSixty has a steadily growing network, working with some of the leading innovators and academic institutes in the U.K. and across the world.
Through 2023 Carbon ThreeSixty is expected to double in size for the third year running.  This level of growth is only possible due to our team of expert Design Engineers and dedicated Production staff.  As we continue to grow it is important to CTS that our customers receive the same level of service and delivery that they have grown accustom to. Hiring Adam into the newly created Commercial Manager role will enable the company to develop a capable Commercial function whilst benefitting from Adam's experience and network.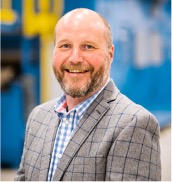 Adam has 25+ years experience working in the composites sector and brings with him a wide depth of knowledge and international networks. He will focus on building new and existing relationships and working with our internal departments to ensure we are well positioned with relevant stakeholders to meet and exceed expectations both externally and internally.
Adam Black commented "I am extremely pleased to be working with the talented team at Carbon ThreeSixty, the vision and strategic direction that they want to take the business will be challenging but very exciting"
Ed Allnutt, Managing Director at Carbon ThreeSixty, said "Myself and Will have known Adam for over 20 years and now we finally get to work together at the same company, delivering the same ambitious goals. What a fantastic way to cap off a hugely successful 2022, where in this year alone we have nearly doubled the workforce"
https://www.reinforcedplastics.com/content/news/carbon-threesixty-appoints-new-commercial-manager
Adam Black appointed as Commercial Manager at Carbon ThreeSixty Ltd to Strengthen Senior Management Team
https://www.composites.media/company/170193
Notes to Editors
Carbon ThreeSixty is a turnkey provider for the design, development and manufacture of highly challenging, advanced composite structures. We are a valued partner in the delivery of innovation, engineering and manufacturing services to the Aerospace, Automotive, Energy and Defence sectors. We specialise in resin transfer moulding (RTM) processes and novel preforming techniques such as tailored fibre placement (TFP) to produce highly optimised and cost-effective structures. https://carbonthreesixty.com