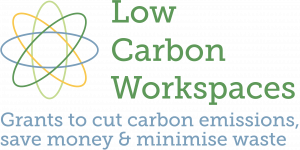 Chippenham, UK;  8th March 2021.  Carbon ThreeSixty, the structural composites specialist, have taken another concrete step towards minimising the environmental impact of their manufacturing operations – recently completing the transition to low energy LED lighting throughout their Chippenham factory, with the support of the Low Carbon Workspaces programme and specialist contractor Light Sense LED Limited.
Lighting accounts for around 40% of commercial building's electricity usage, and 20% of all electricity generated in the UK.  Upgrading lighting was a great opportunity to reduce electricity usage and cut costs whilst simultaneously improving the indoor environment for staff.
Good lighting is crucial for productivity and staff wellbeing. Comfortable and happy staff can improve productivity by up to 13%.  LEDs reduce heat output, improve illumination, reduce glare, and eliminate flickering and humming; all of which can make a working environment significantly more comfortable for both staff and customers.   Carbon ThreeSixty's project is forecast to save nearly 5 tons of CO2 a year, and the long life spans of LEDs reduce maintenance costs and help to ensure the workspace is always fully lit.
The Low Carbon Workspaces programme is funded by the European Regional Development Fund (ERDF) and managed by Ngage Solutions, a not-for-profit company that specialises in the design and delivery of grant schemes and business support programmes.

Company contacts:
Carbon ThreeSixty
Ed Allnutt (Managing Director)
+44 1225 810005
info@carbonthreesixty.com
ENDS
Notes to Editors:
About Carbon ThreeSixty (www.carbonthreesixty.com)
Carbon ThreeSixty provide lightweighting solutions through the use of advanced composite materials and manufacturing processes. They specialise in resin transfer moulding (RTM) processes and novel preforming techniques such as tailored fibre placement (TFP) to produce highly optimised and cost-effective structures.
Carbon ThreeSixty are a member of CompositesUK, the Trade Body for the UK composites industry.